Now I have a few Blog Site's .. the link below will take you to info all about my Underwater Work etc ... this link: http://blogs.thewambank.com/ will take you to Wet and Messy genre. So take your pick. You will see last years info still on this page, but I didn't want to erase it all.. it is still there for you to see.. its just old news.. ha ha !!! But of course still very important work that I have done.
So what ya waiting for .. click the link your choice
Jan 2008: Happy New year to everyone. Letting the year in with 4 dvd releases.
Two very special scuba erotica DVD'S that I shot in Nov starring A&E

Model .. Lexi and my model Taylor. This was shot entirely on HD Video.. all natural sound and no music. If you love the Scuba then this is a must for you. Please go to my catalog and check out them out TZCO1 & TZCO2.

The other DVD releases are
"Liquid Ladies Vol 10" & "Wetter the Better 13"
Sept 2007: See my latest DVD releases "Liquid Catfights Vol 6" and "Wetter the Better 12" .. Lots of great scenes in both volumes. I would also like to share with you that we are planning our next shoot at the same house we shot last year in Fort Lauderdale .. we will be doing Messy Scenes and Underwater/Wetlook Stuff. More info will follow later.
Aug 2007:

I would like to share with you that I am looking for sponsors for my up and coming shoot. Please send me any ideas or script outlines of something you would like my models to perform for you. It can consist of scuba, underwater erotica, breath-holding, underwater catfights etc... lots of things for my models to do. I am in the process of finding new faces for my Website, and upon request I can send you pictures of the models found suitable... Looking forward to hearing from you.
please email me at traciez@aol.com
July 2007: Well finally added to lenny-land.com is the dvd catalog of which I am handling all the orders. We haven't released all the volumes as of yet, so keep checking back from time to time to see the latest releases...Here is the website to the dvd store dvd.lenny-land.com or you can find it directly at http://www.lenny-land.com Enjoy !!!
Feb 2007: See my latest DVD releases "Liquid Ladies vol 9" and "Wetter the Better 11". You can find all the sample pics in my DVD catalog. You will find me starring in both videos !!! Lots of great new scenes in both volumes. Enjoy !!!

Jan 2007: Great news for this month ....... we launced the messy website. Please click this link http://www.lenny-land.com to take the fun tour around lennyland theme park. What a great concept my web designer came up with.... have fun and if you have any questions about the downloads.... please don't hesitate to email me.
Nov 2006: Just to let you know that the shoot was absolutely great !!! We filmed some great new footage for my new website called lenny-land.com which is NOT up and running yet, but will be released in mid Jan. The site is a completely new business venture for me, as it will consist of 100% mess consisting of gunge & pies ....... and in between some messy girl/girl catfight wrestling scenes. So I am very excited about all this. One thing is for sure It will keep be busy at my house, as most of the gunging scenes from now on will be shot at my house. I had a Hollywood prop guy build me a Gungetank, ( yes I have some connections you know ) which is one of a kind. It worked very well and I am very happy with it. So after the Holidays are over, please feel free to stop by and take a peek at the new website/download store.
I did shoot 2 days of underwater scenes, and wetlook. The weather stayed nice for us, and I was so glad we shot it that week in Nov, as the weather in South Florid

a changed a few days later after the shoot.The location we used worked out just as we planned, and we may go back and shoot more footage next year. So overall all is good and we are set to release some great footage in the next coming months.



Sept 2006: I am in the middle of planning for a big shoot in Nov. We have most of the girls booked. We plan on doing underwater and messy scenes. The shoot location won't be at my house this year............. we chose a fabulous location not far from Miami. I am also looking for sponsors who would like to to have their own custom video made..... If you would like more info on who will be attending plus info on the cost, etc .... Please email me and I will let you know. I am very excited that we are doing a shoot in another location

Custom Videos for Aug: I would like to share with you that I am going to be booking Sandy Knight and Taylor for a shoot this month. I get many emails asking to book these girls, especially Taylor, so now is your chance to have her perform a personal custom video for you. !!!
please email me at traciez@aol.com
See the free preview pics for the latest updates to members area.

TRACIE'S LATEST NEWS: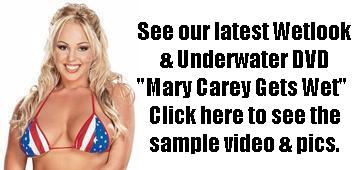 Hope you like the look of my new site....... makes it more user friendly, and easy to access don't you think ???? Would love to hear any of your comments. Do you like my pics ? I have completed my shoot with Mary Carey. Check out her site here: http://marycarey.com/ Email me with any questions you may have about her @ traciez@aol.com
well thats it for now ... I will be back soon with any new updates. xx love TZ xxxx
LATEST DVD RELEASES: See my latest DVD releases "Liquid Catfights 5" and 'Wetter the Better 10". You can find all the sample pics in my DVD catalog.
TRACIES SPECIAL OFFERS & DISCOUNTS: Our shopping cart system is automated and not able to factor in my special offers and free gifts to you, so -- any time you order any 3 items in my DVD catalog, email me at traciez@aol.com afterwards, and then you can choose a 4th item for FREE.
OTHER DVDS YOU CAN ORDER THRU TRACIE Z: You can also see me in many of the SSS series videos and other wetlook, messy and underwater videos I made with Wamtec. See my other SSS and All*** series video in the Wamtec Catalog here.....but if you order 2 or more of these items directly from me I will give you an extra $10 discount. So...see the preview pics here...and then email me first and then I will explain how you can get a special discount.
CUSTOM VIDEOS AND FUTURE PROJECTS: If you would like to book my models to do modelling work for you or custom videos, etc, then drop me an email with an outline of your project proposal. Our modelling fees are negotiable, dependent on the time required and complexity. Our models have experience in magazine work, tv , movies, commercials, print ads and custom video projects. Some are certified scuba divers and experienced at a variety of aquatic sports. Some of my custom video work has involved bondage videos, hairwashing videos, breathholding videos , wet jeans videos, pie fight videos, girl on girl catfight scenes, mudwrestling, you name it....we have done it.
ARE YOU A MODEL INTERESTED IN MODELLING: We are always looking for fresh new faces to work with. If you are a professional model, or a new model looking for modelling work and are located in South Florida, email at traciez@aol.com me for a chat.